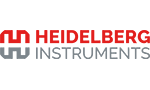 Heidelberg Instruments, Inc.
2539 W. 237th Street, Suite A
Torrance, CA 90505 USA
phone: 1-310-212-5071
info@himt.de
www.himt.de
Booth 26
With an installation base of well over 900 systems in more than 50 countries, Heidelberg Instruments is a world leader in production of high-precision maskless lithography systems. Due to their flexibility, these systems are used in research, development and industrial applications for direct writing and photomask production. Applications include MEMS, nanotechnology, ASICS, plasma displays, micro-optics, and many others.