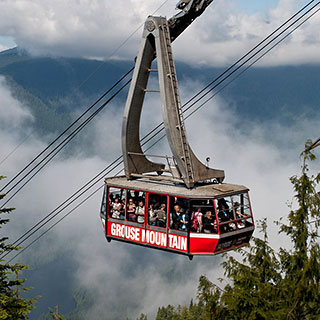 By Air
Vancouver International Airport
The main airport, Vancouver International is situated south of the city center and it is the main port of entry for those flying into Vancouver. Most major airlines operate from this airport and it is well connected by public transportation.
Abbotsford International Airport
Be aware that Vancouver now has a second airport which is used mainly for domestic and some international charter flights. This is Abbotsford International and is about an hour from the city. Unless you're renting a car and driving into Vancouver, you're advised to fly in to YVR because there is limited public transportation into the city from Abbotsford.
By Train
Vancouver, BC has an easy to use rapid transit system (metro) for residents and visitors called the Canada Line / SkyTrain.
Canada Line
The Canada Line is a rapid transit train that runs north-south, connecting Downtown Vancouver to the Vancouver International Airport and Richmond, BC. The SkyTrain is an elevated train that runs northwest-southeast, connecting Downtown Vancouver to East Vancouver, Burnaby, BC, and Surrey, BC.
Both the Canada Line and the SkyTrain are run by Translink, the public transportation organization in Metro Vancouver. Translink also runs all Metro Vancouver buses and seabuses. You can find Canada Line and SkyTrain departure and arrival times, as well as information on tickets, at the Translink.
There are ticket machines inside all Canada Line / SkyTrain stations where you can purchase a ticket using cash, debit or credit cards.
By Car
If you're coming to Vancouver by car, there are a few things you should be aware of. There is no freeway directly into the downtown area, so there is no direct route in, and you will encounter a great deal of local traffic. Parking in downtown can also be difficult, making public transportation the best option.
Car Rental
Vancouver International Airport is well-served by numerous car rental operations located on the first floor near the parking area. Companies operating vehicle pickup and return services on-site at the Vancouver airport include: National /Alamo, Avis, Budget and Hertz/Dollar/Thrifty. Abbotsford International Airport is also served by the above-mentioned car rental companies and they can be found near baggage claim.
Taxis
The taxi ranks are located on Level 2 of the Domestic Terminal and at the arrivals area of the International Terminal. All taxis are metered.
If two or more passengers are going to different places in a zone, the zone rate applies until the first passenger(s) disembark. The meter may only be engaged when the taxi starts moving towards the second destination. Rates do not include gratuities, which are usually 10% of the fare.
There are no app-based transportation companies operating in Vancouver.