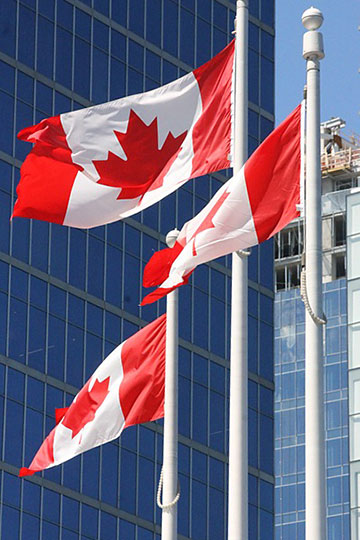 Official Language
The official language of the conference is English and will be used for all presentations and printed materials.
Passport and Visa
All foreign visitors desiring to enter Canada must have a valid passport. Follow this link for Visa Information. No funds are available to assist with travel and registration fees cannot be waived. If, for some reason, your visa application is denied, your registration fees will be refunded to you in full.
Local Time Zones
Vancouver, British Columbia, Canada is on Pacific Standard Time.
Climate
Vancouver temperatures in February can be quite cool. The average temperature is 47° F (7°C).
Banking
Most banks are open Monday to Thursday, 10 am to 4 pm and on Friday they are open until 6 pm. All major credit cards are widely accepted in the city.
Most purchases in Vancouver, BC will be subject to a 7% Provincial Sales Tax (PST) and a 5% Goods and Services Tax (GST), with the exception of liquor (10% GST).
Currency Exchange
The official currency of Canada is the Canadian Dollar (C$). Visitors can exchange currency at Canadian chartered banks, trust companies, credit unions, or at offices of foreign exchange brokers, but it is advised to have local currency on hand prior to arriving. For current exchange rates, please visit www.exchangerate.com. Note that Canada phased out use of the 1 cent (penny) coin in 2013. If you are paying cash, the total amount of your purchases will be rounded either up or down to the closest 5 cents. Credit card and debit card payments are not rounded.
Credit Cards
Visa, Mastercard and American Express are widely accepted in Canada. All hotels, gas stations, supermarkets, shops/stores, pharmacies, restaurants, transport operators, payphones, etc. will accept them.
Electricity
Electricity in Canada is 110-volt AC (alternating current), as in the United States.
Communications
The international code for Canada is +1. Local phone codes include 604, 778, 250, and 236.The number for emergency services is 911. Internet and Wi-Fi access is widely available throughout the city.
Shopping
Typical store opening hours are 10 am to 6 pm Monday through Saturday and 12 pm to 5pm on Sundays. Larger stores and those in shopping malls will often stay open later on Thursdays through Saturdays.
Tipping
When dining out at restaurants, the standard tip for good service is between 15% and 20%. If dining in a group of eight or more people, it's standard for a restaurant to automatically add a gratuity of 18% to your bill. Tipping for counter service is not expected.
Workshop Attire
Attire during the duration of the workshop is business casual.
Cellular Phones, Pagers and Watch Alarms
As a courtesy to our speakers and other attendees, please turn off any cellular phones, pagers and watch alarms during sessions.
Smoking
All meeting rooms and seated functions are smoke free. Please adhere to the smoking policy of the Vancouver Convention Center. It is against the law to smoke in bars, restaurants, cafés, hotels, offices, factories and other places of work. Smoking is not permitted within 6 meters (19.6 feet) of an entryway, openable window or air intake of a building. In addition, smoking is also banned in all Metro Vancouver parks and beaches. Signs will be posted to indicate the applicable smoking restrictions.