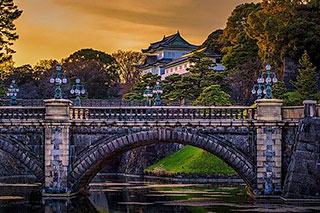 Imperial Palace
The Imperial Palace was built in the late 1800s, destroyed during World War II and then rebuilt. It's surrounded by gardens and a moat, with two bridges (one stone, one wooden) forming the entrance to the inner grounds. Aside from guided tours, the Palace grounds are open to the public only on December 23 (Emperor Akihito's birthday) and January 2 (Imperial Family's New Year greeting).
The Imperial Palace East Gardens are open all year round except Mondays, Fridays and special occasions. For the most current information, check The Imperial Household Agency website before visiting.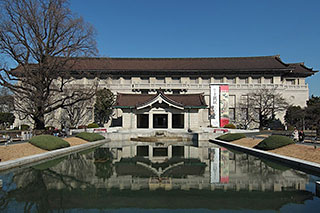 Tokyo National Museum
If you're looking to learn about Japan's history, the Tokyo National Museum is the place to go. This museum is one of the country's most expansive, housing about 116,000 pieces of art and artifacts that cover the longest recorded history of Japan. Strolling through the halls of its numerous buildings, you'll spot relics such as samurai armor and swords (a traveler favorite), delicate pottery, kimonos, calligraphy, paintings, and much more, some of which are designated as national treasures and Important Cultural Properties by the Japanese government. In addition to artifacts from Japan's history, you'll also find pieces from all across the Asian continent, including Buddhist scrolls that date all the way back to 607.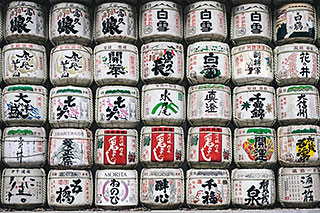 Meiji Shrine
The Meiji Shrine is a Shinto (Japan's original religion) shrine dedicated to Emperor Meiji and Empress Shoken. Japanese history credits Meiji for modernizing Japan by incorporating Western principles into Japanese society, including adopting a cabinet system into government. After the emperor's death in 1912 and that of his consort in 1914, the Japanese commemorated their contributions with the Meiji Shrine. While the buildings are certainly worth visiting, the surrounding forest (considered part of the vast Yoyogi Park) is a sight to see as well. That's because 100,000 of the trees standing were all donated by Japanese people from around the country as a thank you to emperor.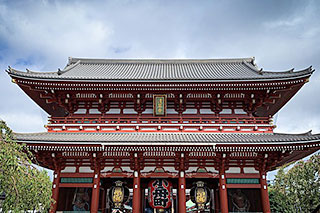 Sensoji Temple
The oldest religious site in Tokyo is also its most visited. The Sensoji Temple sees about 30 million annual visitors and dates all the way back to year 628. Despite its claim to antiquity, however, the structures that currently stand are relatively new reconstructions of previous edifices (during World War II, nearly the entire temple was razed). The Sensoji Temple is dedicated to Asakusa Kannon, the Buddhist god of mercy and happiness. According to legend, two fishermen struck gold and found a statue of the god while fishing on the Sumida River. The Sensoji shrine is dedicated to this lucky catch as well as features a small homage to the fisherman who caught the statue. Unfortunately, while here, you won't be able to see the actual statue. It is there, but it isn't on public display. It has never been. Either way, Buddhists and interested tourists alike flock to this attraction with the hopes that being in the presence of Kannon's healing powers will rub off on them. After you've properly toured Sensoji, take some time to check out the shops that line Nakamise Dori, which you'll find on the way to the temple.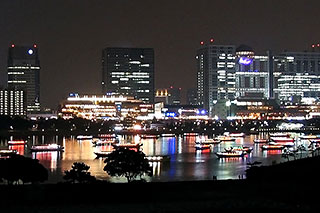 Odaiba
Envision a mini Atlantis rising out of the water, conveniently right next to downtown Tokyo. That's Odaiba. This neighborhood/mini-island situated on the Tokyo Bay is a hub of entertainment, eateries and eye-catching architecture, including the futuristic-looking Fuji Television building. Some of the area's top attractions include the National Museum of Emerging Science and Innovation and the relaxing Odaiba Seaside Park, which comes equipped with its own beach and Tokyo's own Statue of Liberty. There's also a host of amusement parks the kids will no doubt enjoy. In Tokyo Leisure Land in Palette Town, you'll also find go-karts in Mega Web and one of the world's largest Ferris wheels. There's also the Legoland Discovery Center. DiverCity Tokyo Plaza and Decks Tokyo Beach facility offers lots in the way of dining and shopping in addition to entertainment options. Meanwhile, adults will likely be drawn to the Ooedo-Onsen-Monogatari, a natural hot springs theme park where visitors can walk around in traditional yukata robes while dipping their toes in one of the 13 varieties of baths available. But, aside from the many distractions on Odaiba, the gorgeous views across the water have most eyes turned back toward downtown. And at night, the Rainbow Bridge electrifies the glittering skyline with glorious colors.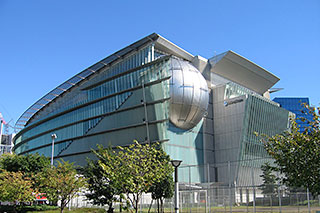 National Museum of Emerging Science and Innovation
The National Museum of Emerging Science and Innovation, commonly referred to as the Miraikan, attests to Tokyo's entrepreneurial spirit and penchant for science and technological innovation. This high-tech museum features a plethora of exciting interactive displays spread across three themed permanent exhibits. In Explore The Frontiers, visitors can learn about space exploration by stepping into a model of the International Space Station, which has been autographed by astronauts who spent time there, including Buzz Aldrin. There's also Discover Your Earth, where you'll find a large LED paneled Earth sculpture, as well as the robotics-heavy Create Your Future exhibit. Make sure you get an eyeful of Honda's impressive ASIMO robot while here. ASIMO has opposable thumbs, can run, and even kick a soccer ball (as it did with President Obama in his 2014 visit to the museum). Kids will particularly enjoy the displays as they can touch, climb on and play with many of them. The museum also features science workshops for kids, talks from researchers and the GAIA 3-D Home Theater.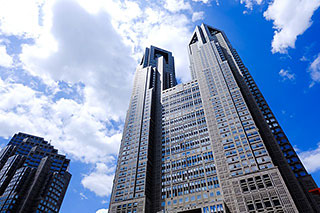 Tokyo Metropolitan Government Building
There are plenty of skyscrapers that provide bird's-eye lookouts in Tokyo. So what makes the Tokyo Metropolitan Government Tower special? It's free! At 202 meters high (662 feet), its two observatories (North and South observatory) are the highest vantage points you can reach in the city without having to shred some yen (at least that we know of). Admission is free, but you might want to save some cash for the multiple dining options located at the top. Both of the observatories are open daily but have different closing hours. The South Observatory is open from 9:30 a.m. to 5:30 p.m. while the North Observatory closes at 11 p.m. The closest metro station is Nishi-Shinjuku.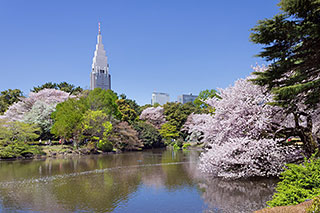 Shinjuku Gyoen National Garden
Just to the west of downtown Tokyo lies a gorgeous urban oasis. Shinjuku Gyoen National Garden comprises 144 acres of green space and is unique in that it incorporates three landscaping styles - Japanese Traditional, French Formal and English Garden. During the spring, the park gets an extra boost in visitors for its vibrant display of cherry blossoms. If you plan on visiting during this beautiful time, make like a local and come to the park equipped with picnic supplies.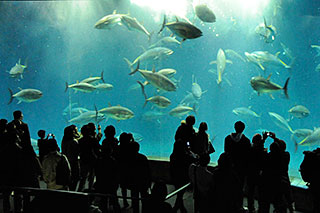 Tokyo Sea Life Park
Across the water from Tokyo Disneyland, the Tokyo Sea Life Park provides educational fun for the whole family. This well-designed aquarium features numerous habitats that mimic bodies of water from around the world, like the Caribbean Sea, Indian Ocean, Atlantic Ocean and Tokyo's very own Tokyo Bay. Here you can find a variety of fish from those regions, including Tokyo's famous bluefin tuna. Travelers will also run into penguins during their visit, puffins and turtles, to name a few. There's also a petting area where patrons can get up close and personal and touch sting rays and bamboo sharks.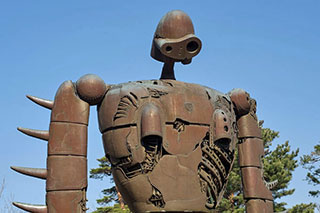 Ghibli Museum
Both avid and amateur anime fans love the Ghibli Museum. The museum showcases the work of Hayao Miyazaki's Studio Ghibli - the famous Japanese animation company that produced films like "Spirited Away" and "Ponyo." Don't expect formal, indoor exhibits. The facility's quirky interior design mimics the animation studio. There's also a play area for kids (which comes equipped with a life-size, fuzzy Cat Bus), a reading room full of books recommended by the museum and a rooftop garden that features character sculptures, including the silent robots from "Castle In The Sky." You can even watch a short film that plays exclusively at the museum and rotates each month.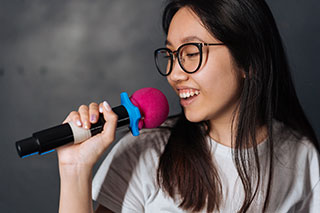 Karaoke
If you've come to Tokyo to pour your heart out in song, try Big Echo karaoke chain has branches all over the city. The hourly rates are cheap and the closing time is late. One go-to outlet is in Roppongi, where the rooms are spread out over three floors. Another choice is Mancy's which puts a fancy, VIP spin on the karaoke experience. Rooms have large sofas, plush cushions, soft rugs, artwork and mood lighting. It's pricey, but a worthy experience nonetheless.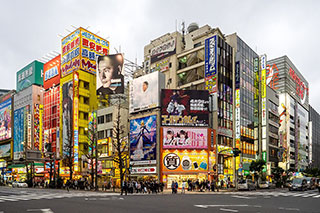 Shopping: Akihabara
Akihabara is nirvana for techies. Tokyo's premier electronics district, which is also referred to as "Akiba," has gadgets of all kinds found in booths on side streets and main street mega department stores. You'll spot the latest technology on the shelves, which will probably put your equipment to shame. And if you're in the market for hard-to-find bibs or bobs, you're likely to find that here too. If you're unsure where to start, stop at the larger-than-life Yodobashi department store (often billed as the largest electronics store in the world) or stroll along the neighborhood's main street, Chuo Dori, which becomes car-free on Sundays. In addition to being an electronics hub, Akihabara also caters to serious gamers and anime lovers. Here, you'll find loads of gaming arcades as well as shops and street stalls selling comics and character figurines. You'll also probably spot a few cosplayers casually walking down the street.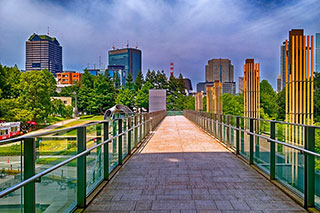 Shopping: Roppongi Hills
Roppongi Hills is another attractive destination for shopping and sightseeing. Visitors can find Hugo Boss and Diane von Furstenberg, along with Banana Republic and Zara. The sprawling complex is also home to unique Japanese shops, including jewelry designer Yoshinob. Takeshita Dori is one of the places Harajuku Girls go to stock up on cheap togs and accessories. The 400-meter-long walking street is a must-see for visitors keen to sample some of the styles worn by Japanese youth -- frilly dresses with low hemlines, wigs, trinkets and T-shirts. Keep your camera on standby -- Tokyo's cosplay aficionados like to strut around in this area (and closer to the train station), showing off their outfits like proud peacocks. Takeshita Dori also has cafés, fast food outlets, a Hello Kitty ice cream stand and a three-story ¥100 shop (Daiso, Japan's version of the Dollar Store).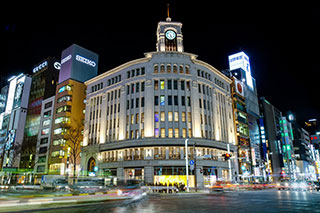 Shopping: Ginza
If you're not much of a shopper, Ginza still offers loads in the way of things to do. The neighborhood is also an arts hub, housing more than 200 galleries to its name. There are also plenty of theaters as well. If you're looking to catch a traditional kabuki performance while in Tokyo, Kabuki-za is considered one of the city's best. Ginza is also home to several Michelin-rated restaurants.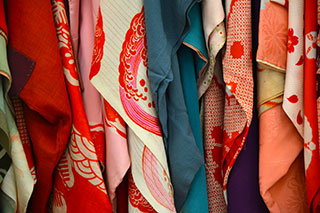 Shopping: The Oriental Bazaar
The Oriental Bazaar traces its roots to 1916 and claims that shoppers who visit can get almost anything related to Japan. Visitors will find kimonos for adults and kids, Hello Kitty key holders and lacquerware, along with art and antiques. New York has Fifth Avenue, London has Oxford Street, Paris has the Champs-Élysées and Tokyo has Ginza. The neighborhood is a shopper's paradise, housing all types of storefronts from affordable, big-name retailers such as H&M and Zara to upscale design houses such as Dior, Armani and Cartier. You can also find loads of specialty stores selling traditional items, such as kimonos, incense and chopsticks, as well as more unconventional finds, such as stores dedicated to buttons, model trains and even charcoal-infused beauty products. You can also find a plethora of Hello Kitty products at the Sanrio flagship store located here, as well as all the toys your kid's (or your) heart desires at the massive Hakuhinkan Toy Park.