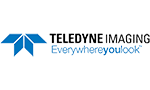 Teledyne MEMS
18 boul de l'Aeroport
Bromont, Quebec J2L 1S7 CANADA
phone: +1-450-534-2321
MEMS_Sales@Teledyne.com
www.teledyneimaging.com/en/mems/

All designs. All materials. All applications.

Teledyne MEMS supports your manufacturing from prototype to high volume production. Seamlessly transition your product from design on 150mm or 200mm wafers to high volume production.

Leverage our state-of-the-art facilities, decades of fabrication experience., and two Canadian locations to get your product to market on time.



MEMS Brochure