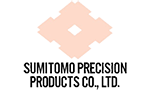 Sumitomo Precision Products Co., Ltd.
memssolutions@spp.co.jp
www.spp.co.jp/English/index2-e.html
Sumitomo Precision Products Co., Ltd. manufactures and supplies MEMS devices such as MEMS gyroscopes and inertial sensor systems. It is also developing piezoelectric thin film technology to support more diverse and multifunctional MEMS device designs. It has two affiliated companies in MEMS field. Silicon Sensing Systems (SSS) has supplied over 30 million inertial sensors and provided MEMS foundry service for prototyping to mass production. SPP Technologies (SPT) has been providing MEMS and semiconductor manufacturing equipment such as deep RIE.

By utilizing technical assets shown above and by collaborating with partners, we create and offer new "MEMS Solutions" to customers.



Highest Performance Epitaxial PZT Film

Silicon Sensing Systems Expands MEMS Foundry

Small & Redundant IMU For INS using MEMS Gyroscope

Newly Developed Smallest Highest Accuracy Northfinder