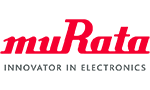 Murata Manufacturing Co., Ltd.
10-1, Higashikotari 1-Chrome*
Kyoto, 617-8555 JAPAN
phone: +81-75-951-9111
www.murata.com/en-global/contactform
www.murata.com
Murata Manufacturing Co., Ltd. is a worldwide leader in the design, manufacture and sale of ceramic-based passive electronic components & solutions, communication modules and power supply modules. Murata is committed to the development of advanced electronic materials and leading edge, multi-functional, high-density modules. The company has employees and manufacturing facilities throughout the world.




SCC3000 Flyer

SCHA600 Flyer

MEMS Sensors & Sensing Elements

SCHA63T Flyer