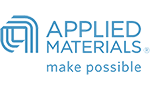 Applied Materials, Inc.
3320 Scott Boulevard
Santa Clara, CA 95054 USA
phone: +1-408-406-8003
Mike_Rosa@AMAT.com
www.appliedmaterials.com





We are the leader in materials engineering solutions used to produce virtually every new chip and advanced display in the world. Our expertise in modifying materials at atomic levels and on an industrial scale enables customers to transform possibilities into reality. At Applied Materials, our innovations Make PossibleŽ a Better Future.