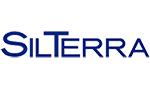 Silterra Malaysia Sdn. Bhd.
Lot 8, Phase II, Kulim Hi-Tech Park
Kulim, Kedah, 09090 MALAYSIA
phone: +604-401-5111
dist-mems-bd@silterra.com
www.silterra.com




SilTerra Malaysia is a semiconductor wafer foundry offering a full range of process technologies covering our core business in CMOS technologies (advanced logic, RFCMOS, mixed signal and high voltage) to leading edge technologies in MEMS, silicon photonics, bio-photonics and power. SilTerra's wafer fab has a capacity of 40,000 eight-inch wafers per month. SilTerra also offers MEMS foundry services and a unique MEMS-on-CMOS technology. Under the MEMS foundry services, we help customers realize working prototypes from their proof of concept, support the transfer or set-up of customer owned process and ramp-up to high volume manufacturing (all in one fab). With our MEMS-on-CMOS technology, we have the capability to build the MEMS devices on pre-processed CMOS wafers thus offering a "truly monolithic MEMS integrated solution". This integrated technology provides a cost-effective, multi-functional chip with a smaller footprint. SilTerra provides proven silicon validated MEMS devices to our customers. SilTerra offers various MEMS on CMOS devices such as: pMUT(piezoelectric micromachined ultrasonic transducers), BAW and SAW (bulk and surface acoustic wave) resonators, optical micro-mirror arrays, zero level package (ZLP), nano-wires, and sensors. Applications include frequency control products, data projectors, finger print sensors, medical imaging and industrial sensors.



Silterra Brochure

Leading Foundry Solutions