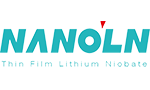 NanoLN/Jinan Jingzheng Electronics Co., Ltd.
B1806, Building No. 1, Yaogu Industrial Park
Jingshidong Road, Licheng District
Jinan, 250000 CHINA
phone: +86-531-8898-3077
cathy@nanoln.com
www.nanoln.com
NANOLN (Jinan Jingzheng Electronics Co., Ltd.) is a company specialized in producing single-crystal lithium niobate thin films (LNOI) and Lithium Tantalate thin films (LTOI).

It is dedicated and well experienced in the optical crystal and semiconductor fields.

NANOLN wafers can be used for producing integrated modulators operating at CMOS-compatible voltages, novel filters, IR detectors, terahertz devices, FRAM devices, transducers, sensors, oscillators, etc.

NANOLN people are striving to offer high quality products together with the best service and technical support.