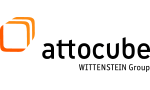 attocube systems Inc.
2020 Stuart Street
Berkeley, CA 94703 USA
phone: 1-510-649-9245
info@attocube.com
www.attocube.com


attocube is the technology leader for nanometer precise motion and sensing solutions, which are also compatible with extreme environmental conditions such as UHV, magnetic field, radiation exposure, as well as cryogenic to elevated operating temperatures. Integrated cutting-edge research systems include low temperature & high magnetic field compatible microscopes, closed cycle cryostats and a cryo-optical table for challenging quantum optics experiments. Customized solutions are developed for challenging OEM applications, always optimized to the customer's specific requirements.