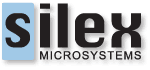 Silex Microsystems
Box 595, Bruttovagen 1
Jarfalla, SE 17526 SWEDEN
phone: +46-858-024-900
fax: +46-858-024-901
email:
info@silexmicrosystems.com
www.silexmicrosystems.com
Booth 4
Silex Microsystems is the World's Largest Pure Play MEMS Foundry with a top modern 200mm wafer volume production fab. In order to offer the most extensive protection of customer IP required to attract innovation leaders, Silex does not offer any product technologies. Silex has however for the last decade been the leading provider of enabling MEMS technologies in the "non-product" space, offering the latest generation of TSV, TGV and Wafer Level Packaging technologies in addition to production capability of the next generation MEMS materials such as thin film PZT, AlN and a wide range of noble metals.